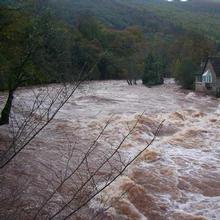 Fforest Fawr was designated as the first Geopark in Wales largely because of its outstanding geological heritage.
Its dramatic landscapes have been hundreds of millions of years in the making.  Mankind's contributions to this landscape are but the most recently written pages in a book which is still taking shape.
Change continues to affect the Geopark.  If you catch sight of the Usk in flood, then you are witness to the rich red rocks and soils of the Geopark making another part of their journey from the mountains to the sea.  The varying fortunes of the farming industry and the gathering pace of climate change are two more influences on this ever-altering landscape.
Some changes can be influenced by decisions we make about how the landscape is managed.   Landscapes and wildlife habitats which are held to be especially valuable have been given a variety of designations.  Each one brings along with it restrictions, incentives and opportunities in various measure.
Find out how we are rising to the challenge of protecting Waterfall Country in a short film produced by UNESCO.
Within Fforest Fawr UNESCO Global Geopark you will find examples of the following designations: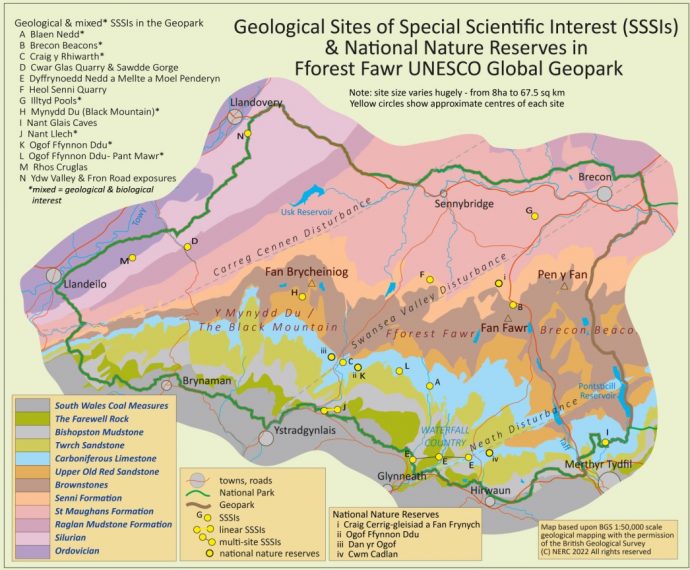 RIGS
A project to audit the geological sites of South East Wales, including the entire Geopark, which began in late 2008 was completed in early 2012. It has resulted in the designation of dozens of 'regionally important geodiversity sites' (or 'RIGS') within the Geopark and many more beyond its borders. It has also lead to the recognition of numerous 'sites of interest for nature conservation' (or 'SINCs').
Details of all 47 RIGS within the Geopark can be found here.
A RIGS group comprising interested and knowledgeable individuals drawn from a range of organisations and none, was established for the region in February 2013; the operational area of the South East Wales RIGS Group includes the whole of Fforest Fawr UNESCO Global Geopark. During 2014 the group began to engage in geo-conservation activities and promoting the understanding of RIGS sites – please visit the UKRIGS website for more information.
The agri-environment scheme Glastir operates within the area. You can find more information on landscape and wildlife designations on the Natural Resources Wales website.
Geosites
A geosite is a locality, large or small, which exhibits geological and/or geomorphological characteristics which are deemed of interest to research, education, interpretation, conservation or the history of earth science.
Each of the sites within the Geopark which is recorded as a geological (or mixed) SSSI, and including National Nature Reserves with a geological component, together with all of the RIGS, are considered as 'geosites'. Beyond these are a host of other sites to which reference is made in walks, talks and displays which help to tell the Geopark story. These too can be considered geosites in the wider sense of the term.
Doing your bit
Protecting and conserving this landscape is not just down to government and local authorities; each of us can make a difference too. Fforest Fawr UNESCO Global Geopark is there to be enjoyed: if we can understand and respect it as well, then we will help to ensure that its special qualities remain.
Look out for one of our growing band of Geopark Ambassadors who can help you to get to know the place.
Fossil-collection
Fforest Fawr UNESCO Global Geopark is signatory to the European Geoparks Network Charter which forbids the sale of fossils and mineral specimens by its partner organisations. Fossils are a limited resource – by definition they do not breed!
The Geopark does not permit the sale of fossils by its partners nor does it promote the collection of fossils from within its boundaries, indeed their collection from many of the sites listed above is forbidden by law. However you are very welcome to take away photographs and memories of days spent enjoying getting to know the area's earlier residents!