Fforest Fawr Geopark is a member of the European Geoparks Network or 'EGN' – a family of 95 designated areas in 27 countries spread across the continent. The EGN originated in discussions between two geologists from France and Greece who met at an international geological congress in 1997.
They found that they had a common interest in conserving and protecting the geological heritage of the areas in which they worked. Not only that but they were keen to improve the public's understanding of earth science. They figured that developing attractions based upon the geology of an area would help visitors to appreciate and ultimately care for those special qualities.
They looked across Europe for other partners who shared these ideals and soon found them in Haute Provence (France), Maestrazgo / Terruel (Spain), the island of Lesvos (Greece) and Vulkaneifel (Germany). This group of four won funding from the European Union to achieve their aims and so the European Geoparks Network was born.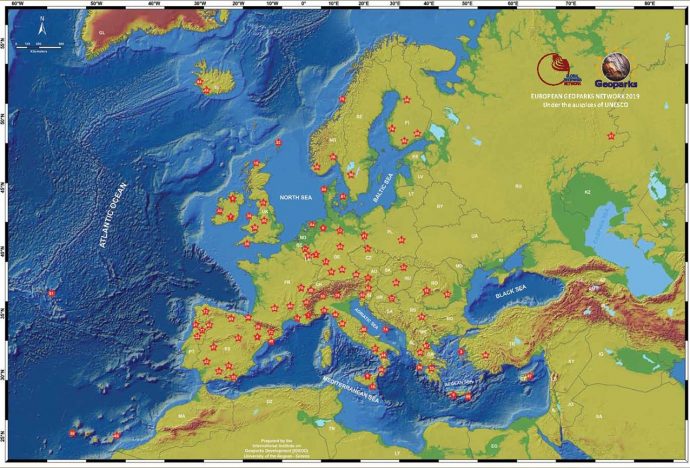 Since that time more than 90 other areas across Europe have joined the network as the map above shows.
In 2004 UNESCO decided to assist with the establishment of a Global Network of Geoparks into which came the existing 17 European Geoparks along with 8 new Chinese Geoparks. There are now Geoparks in Brazil, Canada, Chile, Ecuador, Iran, Japan, Indonesia, Morocco, Malaysia, Nicaragua, Peru, Russian Federation, South Korea, Tanzania, Thailand, Uruguay and Vietnam too. In November 2015 this wider network became the first new UNESCO programme for 40 years, being formally established as the UNESCO Global Geoparks (UGGp) Network.
Austria
Belgium
Croatia
Cyprus
Czechia
Denmark
Finland
France
Germany
Greece
Hungary
Iceland
Ireland
Italy
Luxembourg
Netherlands
Norway
Poland
Portugal
Romania
Russian Federation
Serbia
Slovakia
Slovenia
Spain
Sweden
Turkey
United Kingdom