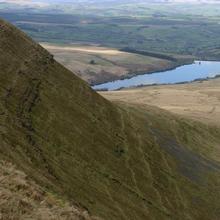 The biggest attraction of the Geopark is the landscape itself.
From the valley floor to the mountain top and everything in between. You can explore it for yourself with the help of a map or pick up a trail guide or leaflet.  Another option is to listen to and download a podcast or follow an audio-trail.
On the other hand you might prefer to join a guided walk – during the annual Fforest Fawr Geopark Festival for example (at the end of May/start of June each year) - or attend another event celebrating the natural heritage of Fforest Fawr Geopark.  Start by taking a look at our What's on pages.
More to come!
From spring 2013 there will be a growing body of Fforest Fawr Geopark Ambassadors – tourism businesses with a passion for the Geopark, its landscape and culture and trained in helping the visitor get the most out of it.