UPDATE! – 7 August 2021
National Park Visitor Centre, Libanus: café, shop, toilets and car park are all OPEN.
Craig y nos Country Park: Changing Seasons café, car park, shops and toilets are OPEN (10am – 5pm) (Cafe and shop times can vary)
As a visitor, whether from near or far, you can help show how you value this area by keeping to the Covid rules and advice.
Please consider avoiding popular spots like Storey Arms and Waterfall Country – there are many other places to discover in this area!
Ensure that you respect social distancing, adhere to strict hand hygiene, keep dogs on leads and follow the Countryside Code.
Please #KeepBreconBeaconsSafe
---
Covid-19 information on other pages on this site has been placed on a coloured background to help you identify it.
To ensure the safety of our tourism community, local residents and visitors, we ask that you respect our code of conduct when visiting us. By taking these simple steps, we can all do our bit to protect each other and protect the Brecon Beacons. Thank you.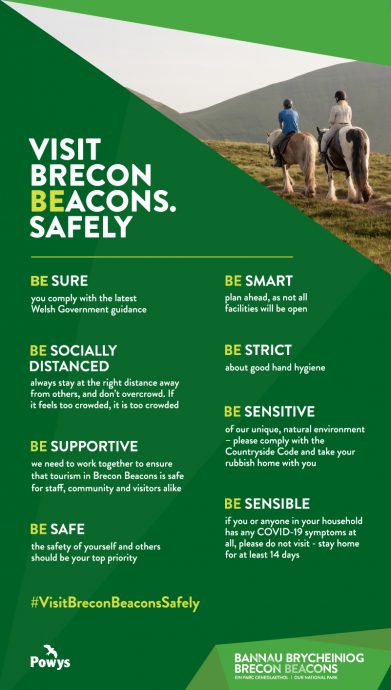 Social distancing remains important. Advice from Welsh Government remains that you should keep 2m distance from others who are not in your party.
Washing your hands and wearing a mask continue to be useful means of controlling the spread of Covid-19 in particular circumstances. Remember – except in cafes, pubs and other hospitality venues, you must still wear a mask in indoor public spaces in Wales.
Follow the Countryside Code
---
This page was updated on 7 August 2021