The waters of the Afon Tawe gather here in the beautiful upper reaches of the valley. Ever thought of paying a visit – there's a lot to discover in the area!
Possibly more interest per square foot than any other part of the Geopark. The mix of rocks – Old Red Sandstone, Carboniferous Limestone, Twrch Sandstone and Coal Measures – give rise to a richly detailed landscape. This is the place too to start your exploration of the wilder parts of the Geopark.
Craig-y-nos Country Park — occupying the 'narrows' between the limestone cliffs of Craig-y-nos and Craig Rhiwarth.
Cribarth — often described as a 'mini-mountain' — definitely one of the most interesting hills in Britain.
Henrhyd Falls — highest falls in South Wales.
Penwyllt & Ogof Ffynnon Ddu NNR — geology, botany and industrial archaeology coming together in one fascinating area.
Waun Fignen-felen — a bog with a past and, after recent human intervention, a future.
Brecon Forest Tramroad — early 19th-century transport network whose remains can still be seen in the landscape.
Fan Hir & Llyn y Fan Fawr — a glacial lake nestling beneath an impressive mountain scarp
Landslip closes popular route in the Upper Swansea Valley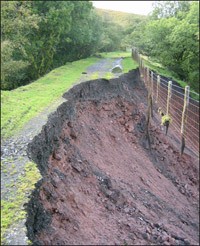 A major landslip has occurred on the disused railway embankment at GR 865182 between Penwyllt and Bwlch Bryn-rhudd where the railway meets the A4067.
The landslip is on Access Land but access rights have been suspended until the area is stabilised to ensure the safety of the public. It is therefore not possible to walk from Penwyllt to Bwlch Bryn-rhudd on the old railway.
Please on no account approach the landslip which is unstable and further collapse may occur. Issued 23rd September 2010.